I thought I would give you an update on my
Clay Color System
. Even though the color recipes included in my tutorial are based on Kato clay, the tutorial itself can be used with any other clay brand. If you find mixing colors sometimes a little confusing or complicated, then you will find this color system very helpful. Included are several worksheets to help you learn about color mixing and combining and to assist you in exploring color and creating your own color recipes.
But this tutorial is more than just clay color recipes. It is an entire system for organizing your recipes as well as the clay that you mix up. And now included is a second set of recipe cards to use with any other polymer clay brand. While they do not contain the kato clay color recipes, some of the base mix recipes are included that can be applied to other clays such as Premo or Fimo. You can still use the color system tutorial to explore color mixing and the color recipe cards for saving your own recipes and baked clay color chip samples.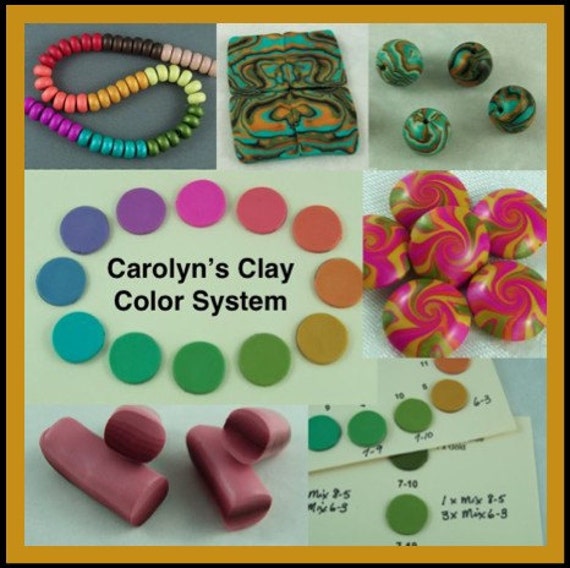 I have received a lot of positive feedback on this tutorial and would like to share some of those comments with you. I have left the names anonymous and would like to thank those who took the time to share there appreciation with me.
* Love this color system! Very easy to follow and very detailed.
* A great tutorial. It unlocks the mystery of color mixing.
* This tutorial is fabulous! So much detail and advice! Now just need to ... start making my color samples!
* Terrific tutorial. Very happy with this purchase. Can highly recommend. A+++
* This is a really great color tutorial with many wonderful worksheets and ideas.
* Quick delivery and a lot of fun! My photo album is filling up nicely!
* Excellent tutorial! Great way to learn about color and organize your clay stash.
You can also read a review by
Wendy Orlowski here
and
Cynthia Blanton here
. Both of them suggest making an extra set of color chips so they can play with them on their work table to see how the colors go with one another.